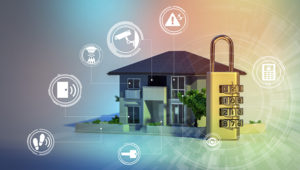 With home security system, your house is fully protected against burglary , fire and unwanted events.
By distributing a set of motion, smoke, heat and other sensors around the house, the house will be protected and you become fully aware of all the suspicious events occurs in order to take the required action as early as you receive a notification on your mobile, where you can decide  a list of numbers that the system can inform if needed.
The system can be fully controlled over the Internet, enabling / disabling zones, reading the logs, and even modifying some settings to suits the situation and needs.